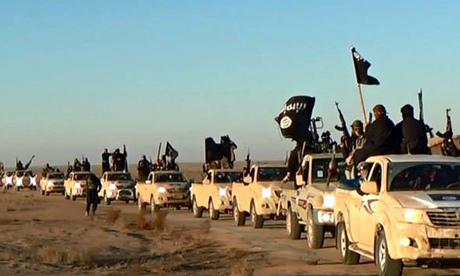 Has the ISIS psyop calmed down a bit? Before it dies out let's examine some incredible ironies and oddities surrounding CIA's ISIS. After all, the ISIS psyop deserves a thorough analysis from every angle, so I thought it appropriate to outline for the sake of humanity. Hopefully, humanity can use the ISIS psyop as a tool for the final or further awakening. It may be wishful thinking, but it is worth exposing every crack and corner of this psyop and let government know that we are not going for it this time.
I declare humanity too intuitive to buy into this psychological operation and hopefully I'm right. So while the core TV-watching, mainstream media-believing community drinks the government Kool Aid, let us get started by pointing out several glaring observations regarding the ISIS psyop.
Glancing ahead, the ISIS kids have knowledge of things that require you to have education, modern technical skills, a little bit of decency, structure, conformity to societal norms and somewhat transparent connection to the outside world. What are these things and what are some of the surreal oddities surrounding ISIS? Let's examine:
Incredibly, despite being savages that only want to kill for apparently no specific burning reason other than that fact that you are not ISIS, ISIS has at least some kind of production department that can skillfully provide what could be considered Hollywood-style editing (of supposed beheading videos) with multiple camera angles, consistent daylight on their subjects and proper daylight mode video exposure. They clearly have the skills for setting up multiple cameras and using those precise angles for their production department. In order to put out these supposed beheading videos, they also had to make sure that the sounds were just right and that there was no shaking of the camera.
Someone then had to take the various video angles and properly edit the footage so as to make it look professional. The editor, apparently a man of class and decency, then is careful not to show any actual action and blood. Savage killers who are ALSO respectful and classy about being too disturbing with their videos. Instead they courteously (but sloppily) cut from the early hand action of their British-sounding supposed lead man, to the post beheading amazingly clean shot of a head sitting on a corpse with the classic Photoshop drop shadows. In Hollywood style, reminiscent of Alfred Hitchcock films, the editor essentially leaves the action to the viewer's imagination. Even though this beheading movie created by ISIS is not being submitted for any film festivals, they carefully comply with techniques that would make this film fully acceptable into almost any gore film festival.
To those who want to point out to viewers the amazing lack of blood during those first critical throat slices of James Foley's neck, sorry, exposing this lack of blood is in itself apparently too grotesque by YouTube standards and should you post such a video it will be conveniently removed.
2. Professional Image Editing Software and Skills.
Like the editing software, the ISIS production team shows off their skills in Photoshop image editing software, which often requires an extended learning period, resources, and practice. Despite a few imperfections, the ISIS production department seems to know how to cut and splice out sections of images to produce the desired effect of disconnecting a head from the body. Even if obtaining and using the software is believable, let's remember we're talking about savage "terrorists" that are supposedly inhumane. In other words, these are clinically, factually documented psychopaths and not your average person according to government legend. Let's keep this in mind (psychopaths) when speaking about ISIS.
3. Internet Connection, Video Uploading Capabilities, and Social Media Accounts.
According to U.S. "intelligence sources" mouthpieces, ISIS has all the above including social media capabilities. Amazingly, these covered-face killers have unraveled the secret of how to outsmart every world power including the U.S. Empire with regard to every form of communication. They have stomped out the U.S. military, NSA, CIA, NATO, U.N. and the intelligence of Israel, U.K. and every other nation that surrounds them. You may think it's not every day that a small group of young face-covered kids can outsmart the world, but this could be attributed to pure luck if you believe in the ISIS psyop. Just to be able to say that you've outsmarted the U.S. Empire 13 years after they accelerated their plans to rule the world outlined in The Project for the New American Century document titled
"Rebuilding America's Defenses."
According to the ISIS psyop, that accomplishment alone is worthy of historic recognition.
Here's a group of young kids with covered faces who maintain Internet accounts without any past due balances, they have wide open social media accounts (Facebook? YouTube? Twitter?) that are also apparently well maintained. They must understand and be properly following the rules of these social media accounts. But wait, if they have social media accounts doesn't that mean that the social media providers are terrorists too? Unless these geniuses called ISIS are also fooling them as well. I suppose this would be realistic according to the government narrative since ISIS has apparently outsmarted everyone else.
Okay, forget social media, how is ISIS able to log on to the Internet? Do they have their own ISIS hackers?? Who do they pay their Internet bill with? Without Internet aren't they lost? No social media and no way of knowing what is going on right? I doubt they have analog TV in their convoys? Doesn't this present a communication problem? ISIS again quietly has overcome this problem in a flawless and mysterious manner.